FRAGILE: BEAUTY IN CHAOS, GRACE IN TRAGEDY, AND THE HOPE THAT LIVES IN BETWEEN
In his emotionally charged memoir, author Shannon Sovndal examines the tenuous balance between trying to compartmentalize the trauma of tragedy, while preserving his own humanity.
With candor and humility, Fragile pulls back the curtain on the ER, a place where Sovndal has learned that universal truths about the human condition can be discovered—if you pause long enough to take a breath.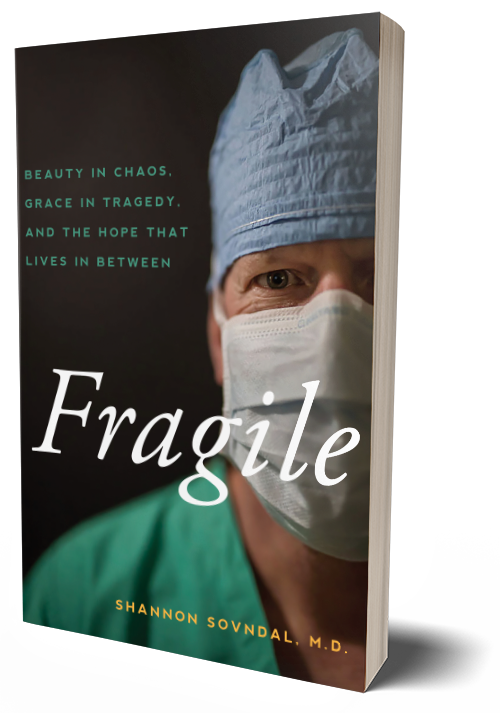 Life is fragile.

When Shannon Sovndal started medical school, he was confident and motivated—and felt invincible. He thought he was going in with his eyes wide open. Really, he had no clue. Nothing could prepare him for the harsh reality of being a compassionate human and working as an ER doctor.  
At turns heartbreaking and heartwarming, serious and funny, Sovndal's memoir is about trying to reconcile the beautiful and horrific tension that makes life so fragile, and how accepting that hard truth opens us up to appreciate life's most precious moments—which are often the ones most filled with connection, hope, and love. 
ORDER TODAY FOR LIMITED-TIME BONUS OFFERS
Order today and receive these limited-time* bonus offers: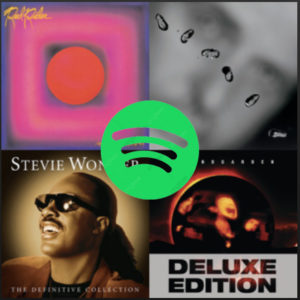 An inspirational Spotify playlist featuring all the songs I reference in Fragile. Curated to motivate and keep you moving forward.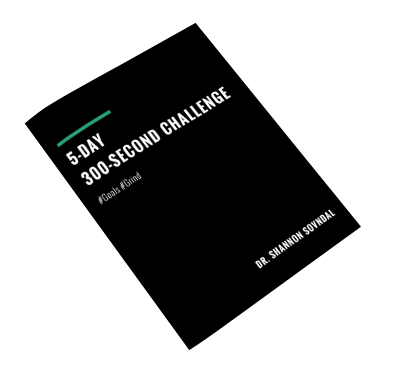 5-Day 300-Second Challenge Guide – Because life is fragile, I'm determined to live my best life and I want the same for you. This digital guide inspires and teaches you practical ways to pursue your goals 300 seconds at a time.
And for my First Responder friends, of whom there are so many in my community, this one's special for you: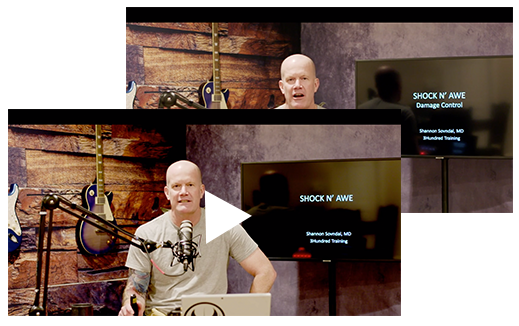 My two-part video series, "Shock & Awe: The Triad of Death" which teaches the physiology and treatment of traumatic injury.
*These bonus offers go away on May 15, so preorder today.
HOW TO CLAIM YOUR BONUSES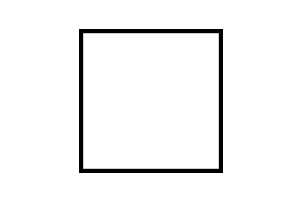 Order FRAGILE
Order Fragile from any of the retailers listed above or below.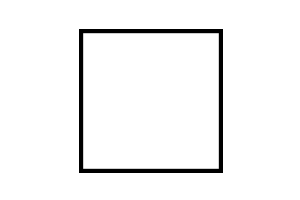 Fill out the form below.
Include a screenshot of your receipt. Don't know how to take a screenshot? Click here.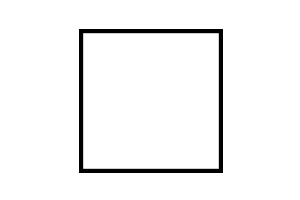 You've got mail!
Check your inbox for confirmation and access to the bonuses.
Interested in bulk orders of the book? I've got even more bonuses for you (webinars, training…). Let's talk.
"As a physician in emergency medicine, Dr. Sovndal knows well the stresses of providing life-saving  or life-ending care to a stranger. This book captures the fragile nature of that relationship, the trust and responsibility that is given to a total stranger, and the sense of failure when expectations are not met. There is indeed chaos, beauty, hope, and heartbreak that lies in the life of an emergency medicine physician;  those emotions spill over into the personal life of physicians, and Fragile captures those emotions with a story of vignettes. I wish I knew all the songs that begin each chapter and I wish I could hear them as I was reading, because those I do know resonate so well."
"Fragile isn't about our frailty, it's about our resilience and how we manage the innate contradiction that comes with life. Dr. Sovndal explores our humanity with deep humility, giving us a candid perspective – both beautiful and terrifying –  that teaches us to embrace everything and everyone."
"As someone who has lived this, Sovndal has captured what life is truly like on the front lines. Now more than ever, this story has to be told and Fragile nails it. Thank you for putting this amazing experience into words that all can relate to!"
"By turns heartwarming, poignant, and deeply moving, Fragile is one of 2020's must-read books. More than a memoir, this book will entertain you, educate you, and enlighten you. Highly recommended." 
"Sovndal's voice and earned wisdom comes through loud and clear. Honest, true and seasoned from experience as an ER doctor and first responder, Fragile is a look at life in the extreme — some of which, most of us can never imagine."
"Fragile is a wonderfully written story that took me into the raw and real world of an EM Physician. Dr. Sovndal's mix of life lessons and humor draws you in, making it a hard book to put down. It brings to light the side of our work that makes us vulnerable, and the wisdom that comes from his experiences is pure gold. A must read!"
"Fragile is a fascinating and fast-paced account of one ER doctor's life inside and outside of the hospital, detailing his path to meaning through heartbreaking and inspiring stories collected along the way.  Highly recommended reading for any medical student!'
"Sovndal writes with gritty and honest prose. Using medicine as a backdrop, he is able to reveal truths about humanity and vulnerability that apply to everyone. Most importantly, he drives home the point of how we need to value our lives and those we share it with, now more than ever."
"From the first page of Fragile, you will be sucked into the unique journey of Dr. Sovndal. He tugs you in every direction navigating the heavy waters of emergency medicine, losing friends, and falling in love. Each page is gripping as he pulls you into his world. The human rawness of his writing will make you laugh, cry, and reflect on the meaning of life. Fragile is a riveting must-read."
"Dr. Sovndal's deeply personal and raw account of his career as an Emergency Medicine physician is as introspective and moving as anything I have read. He reminds us that through the experience of loss, we can learn to live more fully, spend more time in the moment, but only if we allow ourselves to risk vulnerability."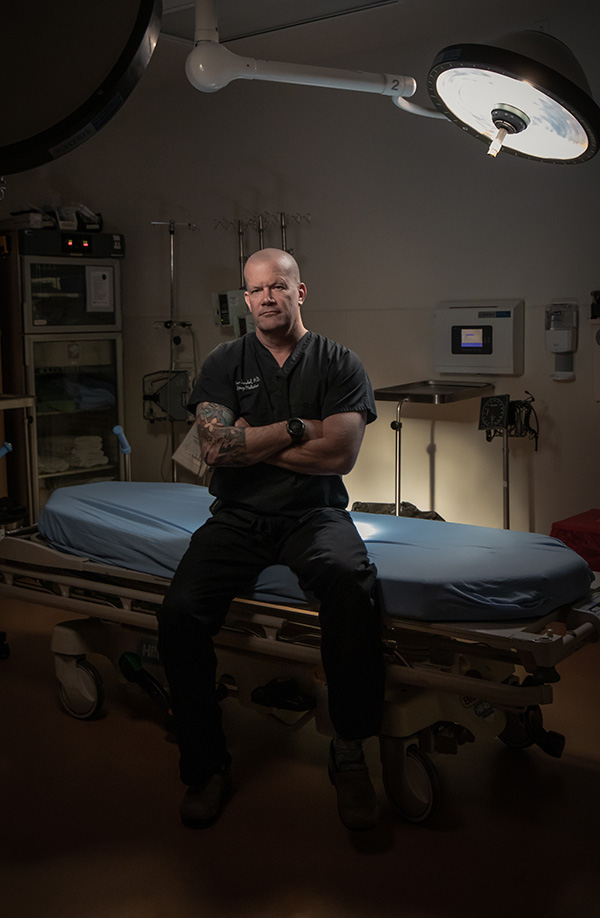 Shannon Sovndal, M.D. produces the Match on a Fire: Medicine and More podcast, and is a board-certified doctor in emergency medicine and emergency medical services (EMS). Dr. Sovndal attended medical school at Columbia University where he earned the prestigious Arnold P. Gold Foundation Award for Humanism in Medicine, and he completed residency in emergency medicine at Stanford University. He currently works as an emergency physician and medical director for EMS agencies and fire departments and is the author of Cycling Anatomy and Fitness Cycling. He lives in Boulder, Colorado with his family.